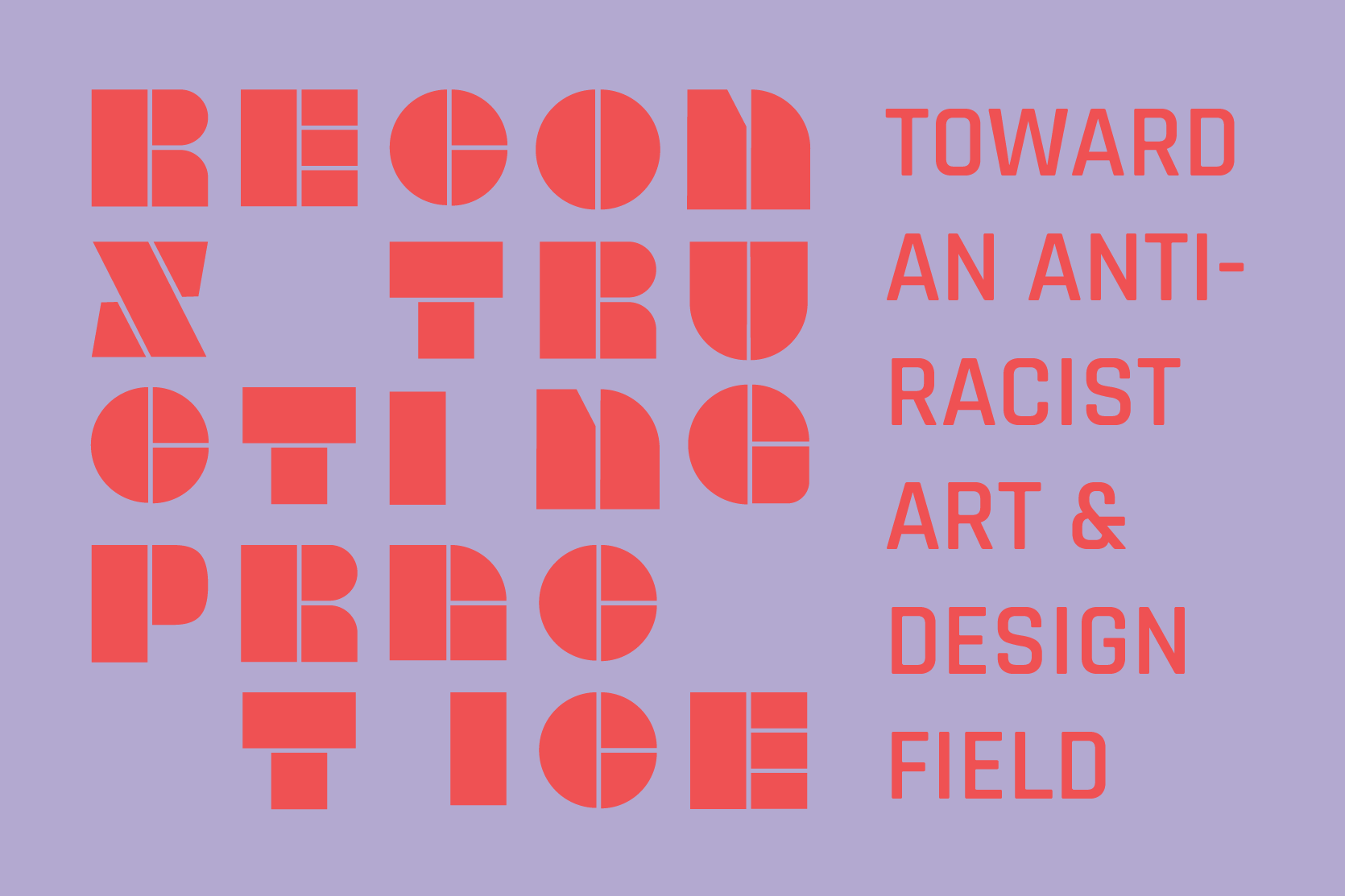 Reconstructing Practice:
Toward an Antiracist Art & Design Field
Antiracist Classroom
2018 / 6-month project
CATEGORIES: UX, spatial experience, exhibition
KEYWORDS: antiracism, racial equity, diversity & inclusion, design education, conferences
I co-organized and designed the spatial experience for the Antiracist Classroom's first conference, Reconstructing Practice:

How might we bring together and create opportunities for connection, knowledge sharing, and fellowship amongst a wide-ranging group of creators & educators of color?
↳ Recap of
Reconstructing Practice
, shot and edited by ArtCenter film major
Sade Young
.
PROJECT OVERVIEW
The
Antiracist Classroom
is a student-led organization at the ArtCenter College of Design which was co-founded in 2017 by my collaborators and myself. The group is mostly graduate and undergraduate students, alumni, some staff and faculty, who are
committed to cultivating racial equity in art and design education, research, and practice
.
Reconstructing Practice
was a two-day convening held on July 13 & 14 in Pasadena, CA. The purpose of the event is
to provide a series of opportunities for young creators—of color, especially—to engage with and through art, design, media and/or technology.
Project Role: SPATIAL EXPERIENCE DESIGNER
We brought a number of people to ArtCenter for the first time and exhibiting the work of artists, designers, and technologists from around the world, so my mission as Spatial Experience Designer was to use our resources to create an inviting and accommodating space where people can connect to others who are doing similar work, or forging similar practice.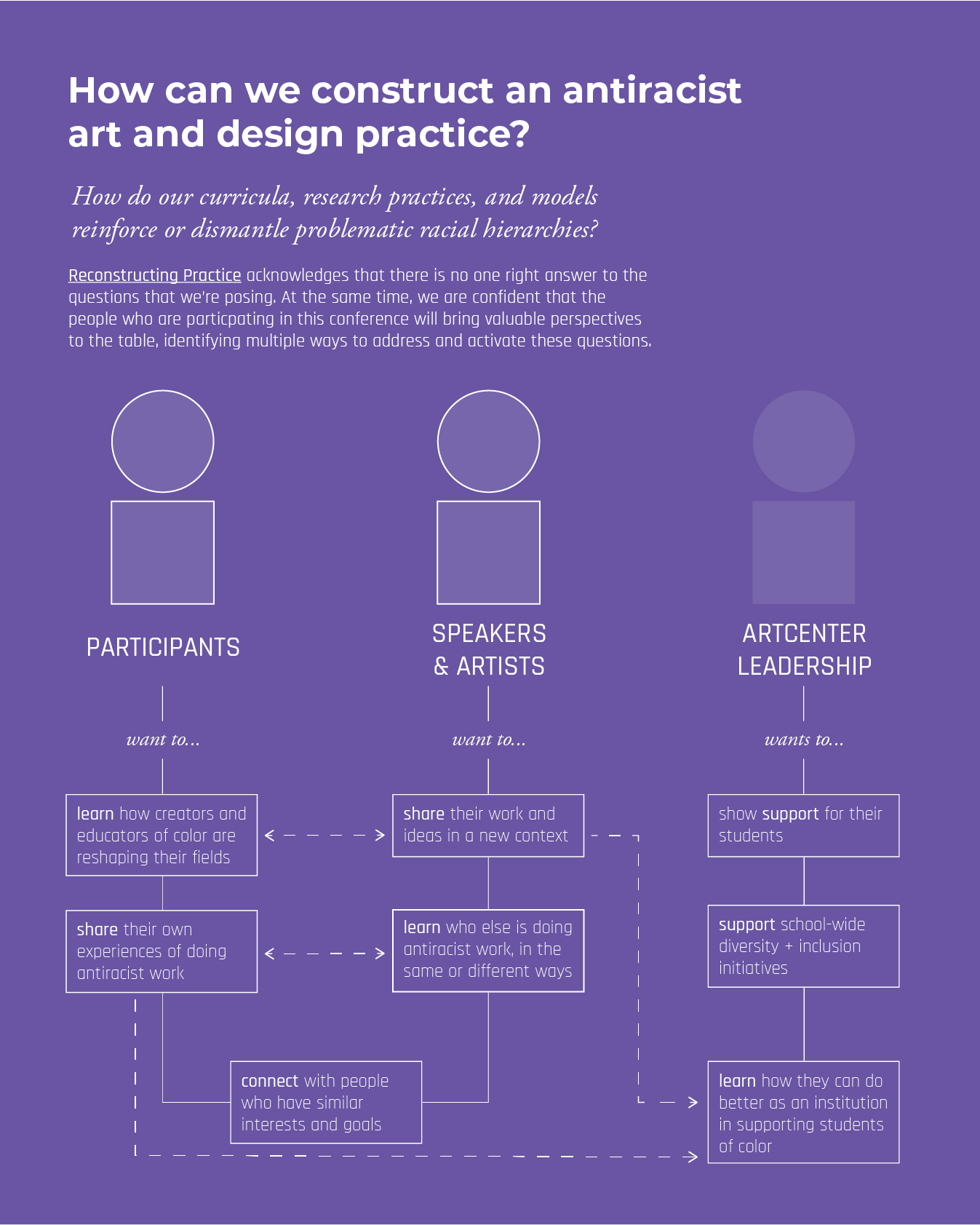 PROJECT STRATEGY

The people who will be a part of Reconstructing Practice fall into three main groups:

Participants. An all-encompassing term for anyone who is engaging with the event by attending it. Participants include those we have specifically invited to speak or share their work at the event, as well as any person who is interested in the topics of the event or the mission of Antiracist Classroom.

Speakers and Artists. This includes people who responded to our Call for Ideas and whose work was selected by the event organizers and steering committee because it resonates with the themes of the event. This group will catalyze discussion and activity through the course of the event.

ArtCenter Leadership. Although Antiracist Classroom is an ArtCenter student group, we acknowledge that we are both a part of, and apart from the institution. Our very existence is a critique of ArtCenter as an institution that does not support people of color. That said, we have invited ArtCenter leadership (administrators, department chairs, faculty) to attend particular parts of the conference that focus on how the design practice intersects with design education.

* CONNECTING PEOPLE

Reconstructing Practice is a convening—not a "meetup" or a "conference". Although this language may seem like a minor detail, it affects how my co-organizers and I are designing the experience. The word "convening" means that we are not operating in a corporate or even a completely academic context.


* SHARING KNOWLEDGE

At the event we want to promote a space where nobody is on a pedestal preaching to the choir. We are finding alternatives to the implicit hierarchy created by a speaker delivering a keynote from a podium on a stage.

In order to reflect this kind of dynamic learning environment, we chose to gather people at round tables to enable collaboration and encourage interaction. Nobody has an assigned seat, and session spaces are arranged to maximize for sharing knowledge, rather than delivering a one-sided talk.


* CREATING FELLOWSHIP

Although every session at Reconstructing Practice is an opportunity for creating fellowship, the Convening Space and the Art Gallery are specifically designed to amplify fellowship among all participants.

The Convening Space is where the full group of participants will gather for the opening and closing programs both days, as well as for meals. This space will also feature a Feedback Wall, where people can record what they've learned or what questions they have for the larger group.

The Art Gallery at Reconstructing Practice will be filled with work that celebrates and examines the complexity and breadth of racialized identities, critiques art and design education, and materializes the ties between art and activism.
LEARN MORE ABOUT THE CONFERENCE